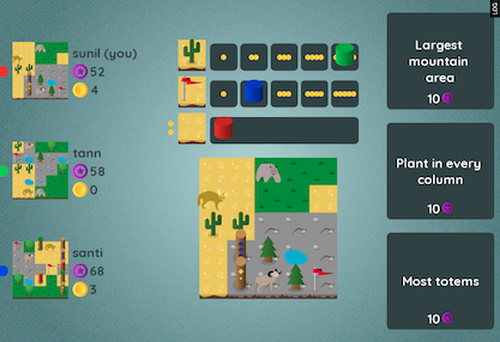 Square Worlds started out life as a digital board game I made for a game jam last year. I then spent about a year turning it into the single player game it is now, in my free time. All of the secret metagame stuff, golden tiles and hidden achievements were additions specifically for the single-player game; whereas the multiplayer game's complexity comes from the bidding mechanics.
I think the multiplayer version of the game was pretty fun, and given that I am in the process of making a multiplayer game backend, it only made sense to come full circle and port the game back to its multiplayer origins.
If you like boardgames and liked Square Worlds, you should go try it out. It requires 3-5 players and is available on the work-in-progress Kangaroo.
The rules are explained on my blog.
If you can't rustle up 2-4 other players to play with, or want to practice before beating your friends, you can come join the Kangaroo discord. There aren't many of us yet, but we're usually up for a game!